LITS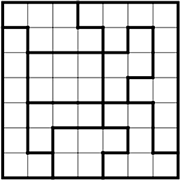 Sample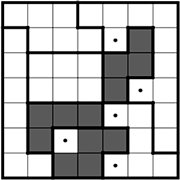 Progressing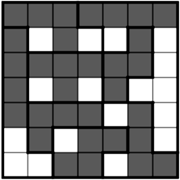 Solution
Rules
Color four consecutive squares (tetrominoes) in each of the areas surrounded by bold lines.
Similarly shaped rotated or reversed tetrominoes cannot touch, except at corners.
The colored squares must form a connected network.
Colored squares cannot form 2×2 or larger squares.
Features
In LITS you fit the four (seven?) kinds of tetrominoes (shapes made by connecting four squares) onto the board.
LITS is a Nikoli original puzzle. It first appeared in Puzzle Cyclopedia. The original name was Nuruomino. The name LITS are the four letters suggested by the shapes of tetrominoes.
First LITS Pencil Puzzle Book out in November 2007.

List of puzzles